Slot Car Innovations and Best Innovation Today
Slot Car Innovations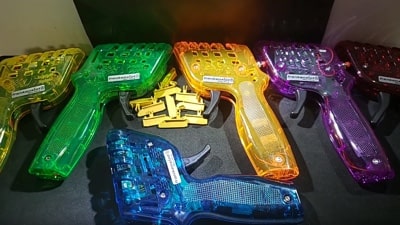 Slot car innovations… that may seem like an oxymoron to many. I mean, how much have slot cars today changed from their original heyday in the 1960s? To be honest, not much.
And for enthusiasts, that's exactly the point. It has some nostalgic appeal for many who raced slot cars when they were younger, and it can be more challenging to succeed with older, simpler technology.
Innovations over the years
To be fair, as you look through the history of slot cars you'll find that things have changed radically, at least from the very early days of slot cars in the 40s and 50s. For example, the first slot cars were gas powered cars that were tethered to a rail. Then again, in the many years since then, the idea of "tethering" the car to a slot and racing them hasn't changed at all.
And while we may not exactly classify it among "slot car innovations," the introduction of traction magnets in the 70s may have altered things as much as anything. Coupled with simple improvements in motors, tires and the tracks themselves, the racing has significantly sped up in recent years.
It's fair to say there have been many slot car innovations over the years aimed at curbing the limitations of slot cars. And it's fair to say that few of them have stuck.
Best innovation today
The innovation currently making waves is digital control systems. Introduced to slot cars in 2004, digital control allows for multiple cars per lane and really enhancing racing and passing. Digitally-coded signals sent along the power strips allow each car to respond only to its own controller.
So while slot car innovations may not come along every day, those that do tend to stick for a long time.