Slot car repairs and servicing. What is a Full Recondition?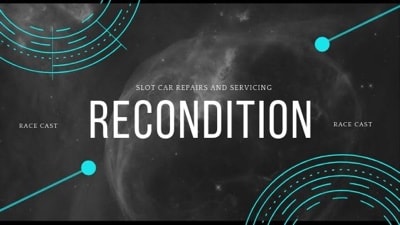 First we clean your armatures in the Ultra-Sonic Cleaner. We use a chemical that does not harm the epoxy, insulation, or any of the armature components. Next, your arms are scrubbed under clean water to remove anything that the ultrasonic didn't loosen. Your armatures are then spin dried and the shafts are stripped of solder and the stacks are lightly polished.
Time to cut the commutator. We have a custom made production machine that keeps an extremely close tolerance for roundness. The next major step is to balance the arm. Our spec is lower than anyone we know in the business. We spend the time, have the newest electroninc equipment and of course over 14 years experience. You know who is doing the work – it is me!
We have a high capacity Magnetic Instruments machine. It is the same industrial built equipment that the major cobalt magnet slot car and magnet factories use. We have carefully measured the power to charge the various magnet materials with so the magnets do not loose guass as the field colapses. This machine charges and discharges in milisecond steps to optimize the charge. There is more than clamping or dropping a setup into an inexpensive machine to do the job properly.
Some dye to prevent rusting and a new tube completes the process. Package and Ship your product back to you. We do this work every day so your reconditioning should be done within 24-48 hours of getting here. Our standard freight policy Priority Mail. FedEx services are alos available. FedEx services will be sent signature required. If you want insurance please ask for it. We will not insure automatically – ask for it if you want it.