Slot car history and Well-known names in slot car history.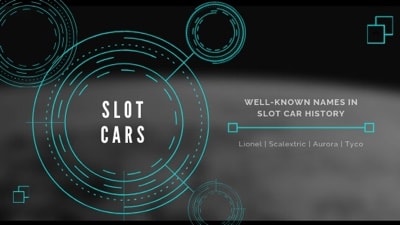 The first slot cars were made by that venerable name in toy models, Lionel, early in the 20th century. But it wasn't until the 60s that true slot racing became popular. In the interim, raised rails (like those seen in railroad cars) were used. Essentially, the raised rails served to hold the large, gas-powered vehicles on the track. The "racing" consisted of timed runs of the cars as they were tethered to the track.
It was in 40s and 50s, slot car history took a new turn when British hobbyist began experimenting with controllable electric cars. The electric current was either run through rails or slots. During this period, racing societies grew up around both competing systems.
Eventually, though, slot became dominant. The reasons are many, but one of the most compelling to racers was how the rails tended to "hold" the cars, taking some of the fun out of it for racers. By contrast, the challenge of keeping the cars from "deslotting" and losing power swayed many to the slot concept and away from the rail cars. By 1963, slot cars were the most popular form of electrical-model racing.
Well-known names in slot car history
In 1957, one of the most popular and enduring names in slot racing, Scalextric, was born in the 1:32 scale. That was followed in the US by Aurora slot cars in the 60s and Tyco brand models from the 70s on. Both are popular today. For Aurora, the thunderjet was one of the most popular slot cars of all time, as was its offspring, the AFX. Both are still prized by racers and collectors alike.
Additionally, as the hobby became popular, pre-made tracks were born which could be mixed and matched to create tracks for home uses. Also, advances in the technology meant slot cars could be made in the much smaller, HO scale popular with model trains.
The 60s were hugely popular for slot cars, with smaller cars and tracks allowing for use by average consumers in homes and basements.
Slot car history mellowed by the 70s,with slot cars losing mainstream appeal and returning to the serious racers, who created associations and set standards and rules. The cars became exponentially faster, with better motors, tires and magnets to help with handling. Recently, the introduction of digital control systems allows for the ability to race multiple cars per lane with more realistic passing.